Hashtab 6.0.0.34 Commercial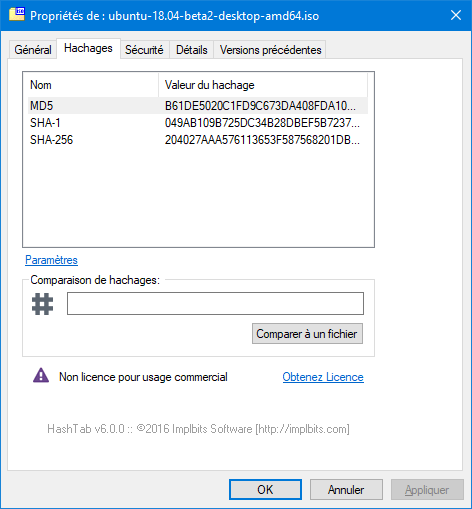 Algorithms
Calculate and display hash values from over two dozen popular hashing algorithms like MD5, SHA1, SHA2, RipeMD, HAVAL and Whirlpool.
Easy
The hash comparison tool supports drag and drop, copy and paste and even has a built-in browse option.
Global
Translated into 27 languages and counting, Hashtab has been downloaded millions of times from over 200 different countries.
Assurance
The perfect way to validate the integrity of a file download. Or use it to quickly compare local files and compute hashes for use in other programs.
Native
Purposely designed to feel like a native feature of Windows. Simply select any file, go to properties, and use the new "File Hashes" tab.
Supports: Windows Vista and higher.
32-bit and 64-bit
New
Updated UI
Understands .md5sum and other checksum files
Save hashes to checksum files
New hash algorithms including SHA3
Bug fixes
More language support
Website
Code:
The contents of this section are hidden
You have No permissions
Download - Free version
Code:
The contents of this section are hidden
You have No permissions
Medicine
Code:
The contents of this section are hidden
You have No permissions