Win RE Utility Suite v2.9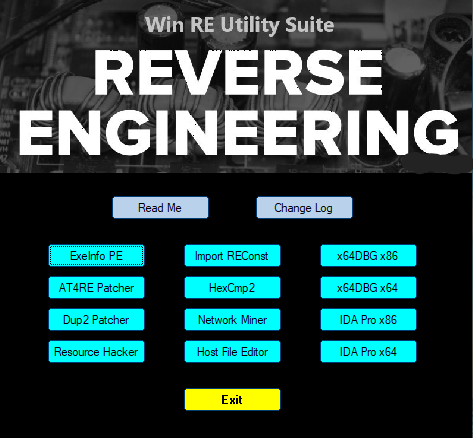 One Utility for all your Windows App reverse engineering needs. If any of the included tools have bugs please contact the creator of that individual tool. Sources are included.
Requirements:
-VCredist runtimes.
-.Net Frameworks.
-Python for Windows.
Change Log v2.9:
-Added 5 additional ida pro 7.2 plugins (88 total).
Download:
Code:
The contents of this section are hidden
Register to view
Hashes:
File: Win RE Utility Suite v2.9.7z
CRC-32: e32e8f0a
SHA-1: 3c048bf91599a934eed8b4fc793eff6ee775e198
SHA-256: cc745f652a79ec6b28788a08d7c07ad3b9bfee61cece22c5154e2fe7bbb7f55f
SHA-512: 42a3ebb59cc4ea4a32e08f670577e80856aa748a076354cc34728f046fe8a0b2f9ed6e54cf242518ad37238d666f800da9266627fc1f57e4685201fcbe2c960a
Video Review:
Code:
The contents of this section are hidden
Register to view