ModDroid Utility Suite v7.2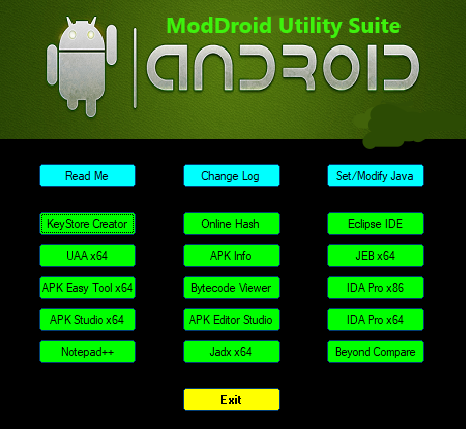 One Utility for all your Android modding needs.  A collection of the most used and reliable reverse engineering tools out on the web. Your search is now over.  Credit to each individual tool developer.  Any bug reports for the included tools should be brought up to the developer of that individual tool.  Links are included in the readme.txt file.  
Requirements:
-64 bit Operating System.
-Java 8 JDK.
-.Net Framework 4.0.0 for UAA x64.
-.Net Framework 4.6.0 or above for APK Easy Tool x64.
-VCredist runtimes needed for IDA Pro Plugins.
-Python for Windows needed for Bytecode Viewer and IDA Pro.
Download:
Code:
https://mega.nz/file/fdQViI5Q#Ap50ryXFBcVDBdlFZJ0xEmr87p8Ms--XgrX8WCePW2k
Hash Values:
Code:
File: ModDroid Utility Suite v7.2.7z
CRC-32: 124491fb
SHA-1: 8dc90c94655b955b27d45f92b146f1c7c4f06d5b
SHA-256: b8994e45da0bf811699b088e139b0011d58aeb81909fa24c118de8c4eb785961
SHA-512: 6033b4c4f714dd5c262dff65da0896414091e66e4d342e486b06219ce20d63310cbf4bc7d28b8b7a4abdff880009a7d9944061d9dd6294ec0866a230f5ce07fc
Change Log v7.2:
-Updated Jeb cfg files and jeb session file.
-Updated Jadx to v1.1.0-b1290.
Video Review:
Code:
https://www.youtube.com/watch?v=-KBsYFRHLJs